Geographic Sciencecard: The Scenic North

Characters featured:

Contributors: Ellen Million (Artist),

Referenced Articles:
Geographic Sciencecards


Geography Sciencecards are a collectible way of making it fun to learn about Empire geography. The Empire doesn't know that the North is settled, and released this card shortly after explorers discovered the land, several years ago. The back of the card reads: Warsailors discovered this inhospitable northern land in 1516. Locked in ice most of the year, initial survey teams made a start on charting this wilderness in 1518. Further exploration is planned for 1520.
View/Add/Edit Comments
<< Previous Art

Next Art >>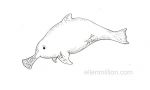 ---
Home | Characters | Art | Fiction | Articles | Messageboard | Contact | Member Login
Donate to support our operating and promotional costs!
Or, subscribe and support individual creators!
[Concept and Site Design: Ellen Million | Website basecode: Ron Swartzendruber]
[No portion of this site's content may be used or copied without prior, written consent.]