The Sun's Rays

Characters featured:

Contributors: Ellen Million (Artist),

Referenced Articles:
Sea Monsters: Heat-Thief


Story collections: Sea Monsters,

Prompted at the April Sketch Fest, this is part of my sea monster mini-coloring book project! The heat-thief uses the big fin as a way to collect heat and stay warm, similar to the smaller southern deathfin. The scale here is quite exaggerated - this is how an Empire warsailor might describe an encounter with a heat-thief for the first time.
View/Add/Edit Comments
<< Previous Art

Next Art >>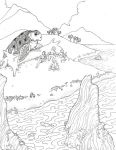 ---
Home | Characters | Art | Fiction | Articles | Contact | Privacy Policy |Member Login
Donate to support our operating and promotional costs!
Or, subscribe and support individual creators!
[Concept and Site Design: Ellen Million | Website basecode: Ron Swartzendruber]
[No portion of this site's content may be used or copied without prior, written consent.]