The Flying Cat

Characters featured:

Contributors: Julie Rabischung (Inspiration), Ellen Million (Artist),

Referenced Articles:
Skycats


Story collections: Muse Fusion, August 2017,

A fanciful series of illustrations and stories published in the grayrags called "The Flying Cat" follows the antics of a black skycat who solves mysteries. This is a tipcard illustration. In actual practice, some skycats can be fitted with a harness that enables them to deliver small items and notes... but they would not wear goggles.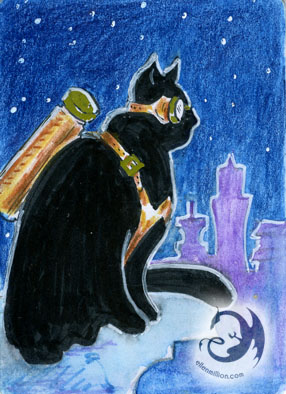 View/Add/Edit Comments
<< Previous Art

Next Art >>

---
Home | Characters | Art | Fiction | Articles | Contact | Privacy Policy |Member Login
Donate to support our operating and promotional costs!
Or, subscribe and support individual creators!
[Concept and Site Design: Ellen Million | Website basecode: Ron Swartzendruber]
[No portion of this site's content may be used or copied without prior, written consent.]